on three wheels in balance
Please ask for current prices and delivery periods.
Balance RT1, 3-speed
Art. Nr. 130.000
speed hubs
Reverse gear for 7-speed hub
Art. Nr. 000.120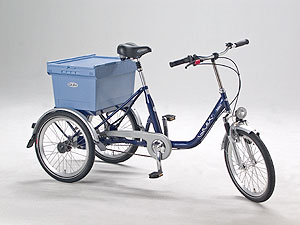 Balance with extras: suspension fork, suspension seat post, lugage box
The Quix Balance makes it easy to stay in track and to feel save even you move very slowly or in standing position. With a low gravity centre the Balance sticks on the ground even fully loaded. It is rolling on 20"x 2,0 tires and easy to steer around sharp corners. Its Hi-Ten-steel frame (43cm high) is easy to step in because of its 30 cm low main tube. A 500 mm long seat post allows tall users as well as small people perfect adjustment of driving position. Also soft seat and wide handlebar make the bike very comfortable.
The Quix Balance is available with 3-speed or 7-speed hub with integrated coaster brake. Further more you can get the 7-speed Balance with Heinzmann power assistance throughout a 250 Watt electric front hub wheel motor with integrated transmission. The Pedelec electric control gives you the ability to get power assistance while paddling up to maximum speed of 25 km/h which is from the government recommended. With average paddling the radius is about 27 km and the hill climbing ability 11%. The 36 V - 5 Ah NiCd battery pack is placed under the rear luggage platform and it takes 2 hours to recharge throughout a coming with charging device at a common 220 V power plug.
As a standard the Balance comes with a rear platform (520x350 mm) out of steel to carry different kinds of baskets or our luggage box. Additional quality attributes are alloy stem with stainless shaft, cartridge bottom bracket, anti-slip pedals, front V-brake with parking lever and full lightning with dynamo. Chain cover and mudguards are out of resistant plastic.
Colour of frame: dark blue - other colours available. Additional equipment you find under "Extras & Accessories".