on three wheels in balance
Please ask for current prices and delivery periods.
Promotion Trike, 5-speed
Art. No. 600.300
Hydraulik disk brake at front wheels
Art. No. 140.409
Hydraulik brake at rear wheel
Art. No. 140.410
Table extension Promotion 100 x 75cm
Art. Nro. 140.406
RAL-custom made colour for trike
Art. No. 140.408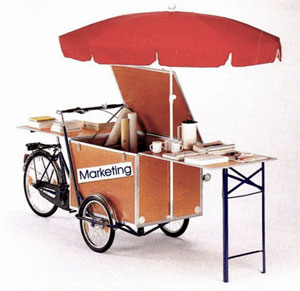 Promotion Trike with extras: table extension and umbrella
The Promotion is designed as universal and flexible sales and promotion unit. The Promotion is an eye catcher by itself. The chassis is good for up to 200 kg of load and is rolling on 20"x 2,0 high pressure tires. The body (100 x 75 x 65 cm) is made out of water resistant plywood and beside the presentation table it stores as well your products for to sell or to promote. With the table extension you are able to increase the presentation space to 300 x 75cm. As option a holder for an umbrella is available.
In the standard configuration the Promotion has a 5-speed coaster break hub at the rear wheel. Other hubs and E-drive is available on request.
Additional quality attributes are alloy stem with stainless shaft, cartridge bottom bracket, anti-slip pedals, hydraulic brake with parking lever and full lightning with dynamo. Colour of frame: dark blue - other colours available. Additional equipment you find under Extras & Accessories.