Compact and to fold
Please ask for current prices and delivery periods.
Quick Step C3, 3-speed hub
Art. No. 100.121
Quix travelbag, black nylon
Art. No. 370.001
Details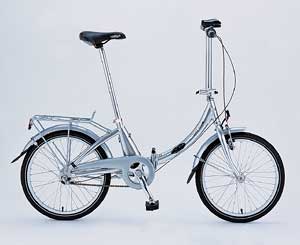 Quick Step C3 with 3-speed hub
The Quick Step is a compact and very movable bicycle for many opportunities. Its superiority performance is presented in every day use. Weather kids or even tall people find a comfortable riding position throughout the extended adjustment features. The Quick Step comes with:
Extra strong frame out of aircraft alloy 7005, carries up to 100kg.
Easy to step in with 40cm low frame design.
Extremely movable and easy to use.
Easy to adjust seat post without tools.
Fully equiped with about 12 kg extremely light weight.
Easy to fold down except tools. Folding size about 81 x 39 x 66cm.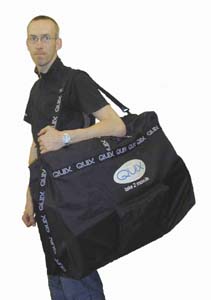 Quix Travelbag
High quality details:
Front brake with anti lock system; handlebar, stem seat post and kickstand out of alloy; extra comfortable saddle; alloy rims with stainless spokes; folding pedals with reflectors; strong rear rack out of alloy with spring clamp; unbreakable mudguards and half way closed chain guard; halogen battery front light and LED rear light; frame colour: silver metallic.