Please ask for current prices and delivery periods.
Quix Travelbag for folding bikes
Art. No. 370.001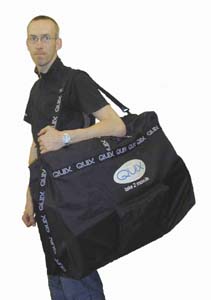 The Quix travelbag is designed to carry our 20" folding bikes Flick Flack and Quick Step. It is made out of strong nylon fibre and comes with handles and a shoulder strap. At the front is a extra pocket, in which you easily can turn in the bag and velcro to the handlebar. That way you are able to carry the bag with you.
The travelbag is black with Quix logo printed on.